Sinuforce Dry Nose Nasal Spray Sinuforce for the relief of dry nasal passages and mucus crust
£8.50
A.Vogel Sinuforce Dry Nose Nasal Spray contains moisturising and soothing ingredients to help dry nasal passages and mucus crusts.
It forms a protective layer over the affected nasal tissues and binds moisture, helping to prevent dehydration.
Description
Sinuforce Dry Nose Spray contains hyaluronic acid in solution to moisturise and support flexibility in the nasal membranes, as well as Chamomile extract to soothe and support regeneration of tissues.
Dosage of Sinuforce Nasal Spray
Children (2-12 years):
Spray once into each nostril, 1-2 times a day for a period not exceeding 30 days.
Adults:
Spray once or twice into each nostril, 3-5 times daily for a period not exceeding 30 days.
This product is not suitable for children under 2 years old.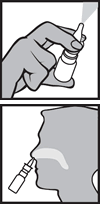 Holding the bottle upright, remove the plastic cap and insert the nozzle into the nostril.Depress the pump by placing the fingers on either side of the nozzle.
Note: It may be necessary to prime the pump before use by depressing the spray mechanism once or twice until a fine spray appears.
Ingredients
Sodium hyaluronate, sodium dihydrogen phosphate dihydrate, disodium hydrogen phosphate dodecahydrate, sodium chloride, Chamomilla recutita (Chamomile) aroma, water.