CHEESECAKE!!!!!
No, it wasn't a miss type. Yes, this tropical cheesecake is not only Vegan but also aip-friendly. Of course, it is smooth, creamy, and indulgent. It is full of beautiful fruity flavors such as mango, pineapple, and coconut with speckles of passion fruit throughout. It doesn't need to be served frozen, unlike many other vegan cheesecake recipes. In fact, the picture below was taken after it had spent 24hrs in the fridge and it's still beautifully firm! Furthermore, it's got a portion of veg in it!! Wait, what?? Veg?? Yup, stay with me people, all shall be revealed! As much as I wish I could, I can't take the credit.
My favorite child:
Ok, so of course, I love my children equally! However, after walking for 3 hours yesterday (which I'm pretty sure is the longest walk since falling ill 6yrs ago), collecting pinecones and sticks for autumn crafts, saying hello to some rather lovely piglets and leaving gifts outside fairy holes, coming home to a slice of this delicious tropical cheesecake with no guilt attached, may have made me love my 6-year-old a tiny bit more!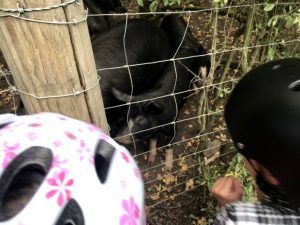 Let me explain. Once a month I do a massive batch cook which covers breakfast, lunch, and dinners. However, on Saturday and Sunday, my kids take turns cooking. Firstly they decide on a meal, then they work out a recipe, write a shopping list, prep, cook, and dish up. This has been amazing for keeping them interested in healthy eating and is teaching them important skills for later in life. I'm not going to lie, we have had some disasters, most of which I've seen coming, but I feel it's equally as important to let them try and fail so they learn for next time! (Plus I have a freezer full of backup meals!).
Pudding for dinner?
As long as it's not every weekend and not both of them on the same weekend, I let my kids make pudding for dinner! Cue the torches and pitchforks from the parent police. Hear me out. For starters, what better way to get your kids interested in healthy eating than allowing your child to play out their fantasy of eating pudding for the main meal???  Secondly, kids have sweet tooth. They will be surrounded by people eating sweets, chocolate, and ice cream and when that happens we want them to be able to make healthy choices and enjoy doing so. What they eat now will be their comfort food as they get older.
Well this weekend, my gorgeous little 6yr old started with the idea of a cheesecake with mango, pineapple, and passion fruit. She then wanted a base that tasted like ginger biscuits. Then I challenged her to come up with a way to make it healthy enough for dinner. . . Cauliflower!! "Because it's white like cheesecake and doesn't taste of a lot". Smart kid! How will we make it stay hard? "Coconut butter, because it's white and hard" again, smart kid!
Tropical cheesecake recipe:
Thus the tropical cheesecake recipe was born. Then she made me take lots of pictures so "you can share it for work, but everyone will know I made it" little blogger in the making that kid!
Ingredients:
This makes two 8inch cheesecakes as I like to freeze one or tub up in portions for the rest of the month!
Base:
1 cup tiger nut flour
1 cup unsweetened desiccated coconut
1/2 cup coconut sugar
3 tsp ginger (adjust to your own taste)
1tbsp molasses
2/3 cup melted coconut butter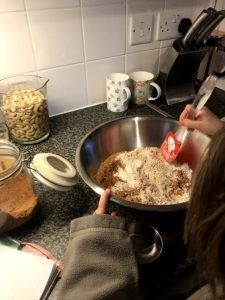 Start by adding all the dry ingredients to a bowl and Mix well to combine.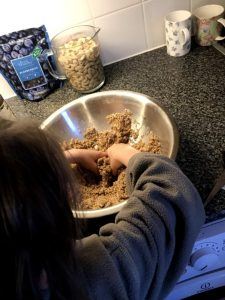 Add the molasses and coconut butter and use your fingers to rub the mixture together until they form a breadcrumb texture.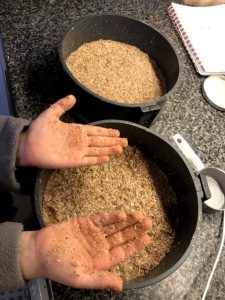 Press into the base of your cake pan. We love these silicone ones with a glass bottom or a springform pan as they make it much easier to get the cake out! Then put it in the fridge while you make the filling.
For the filling:
2 small cauliflowers
350g mango chunks
2 cups pineapple chunks
2-3 tbsp palm sugar (not the brown granulated sugar as this will make the cheesecake darker. This is the kind you find in chunks in oriental stores. If you are local check out fusion in Bedford!)
Just the thick cream from 1 can of coconut milk
400g melted coconut butter
6 passion fruit
First, start by prepping your cauliflower. Cut into pieces and cook until soft. We put it in the pressure cooker for a few minutes on high. Allow cooling.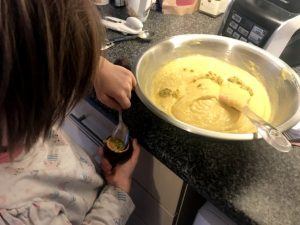 Put everything, apart from the passion fruit, into a blender and blend until completely smooth. Transfer into a bowl and stir in the seeds from the 6 passion fruit.
Pour on top of your bases and smooth out the top with the back of a spoon. Place into the freezer to set. My daughter also assures me that at this point it is absolutely vital to lick the spoon and bowl!
Remove the cake from the pan whilst still frozen to get a smooth edge. ( not sure how well this would work with a metal tin, but the silicone ones are very easy!)
Topping:
1 large fresh mango peeled and in chunks
1/2 pineapple peeled and in chunks
1 pomegranate (seeds only)
Juice of one lime
3 passion fruit
In a bowl toss the mango, pineapple, and pomegranate in the lime juice. Pile the mixture on Top of the tropical cheesecake. I split my mix between both of them. Drizzle over the insides of the passion fruit. We are not vegan so we added a drizzle of our local raw Bedfordshire honey and used bee pollen as sprinkles!
Look at that beauty! Can you believe it's healthy???
Guess what I'm having for lunch. . . Bet ya jealous aren't you?? Yup, I tell you that kid can have anything she wants for about the next 48hrs while I'm still revealing in her genius!
Don't forget to follow us on Instagram and Facebook to keep up to date with all our latest offers, recipes, and health news!